Timothy A. McCullough, HCCP
Chief Financial Officer
Director of Property Accounting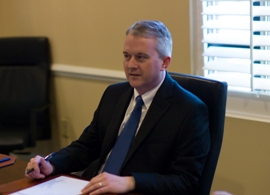 Tim McCullough has full charge accountability for Property Accounting and oversees all operational systems, financial reporting, and Corporate Accounting. He brings over 20 years of experience in property management accounting from two of the largest management companies in the country.
Prior to joining Vista Capital, Mr. McCullough served as Assistant Controller at Apartment Investment & Management Company (AIMCO), in the Greenville, South Carolina Service Center. He also worked as Senior Accountant with Insignia Financial Group for 5 years prior to its merger with AIMCO.
Mr. McCullough holds a Bachelor of Arts in Business Administration from Furman University, cum laude, and is a Housing Credit Certified Professional (HCCP), awarded by the National Association of Homebuilders (NAHB).